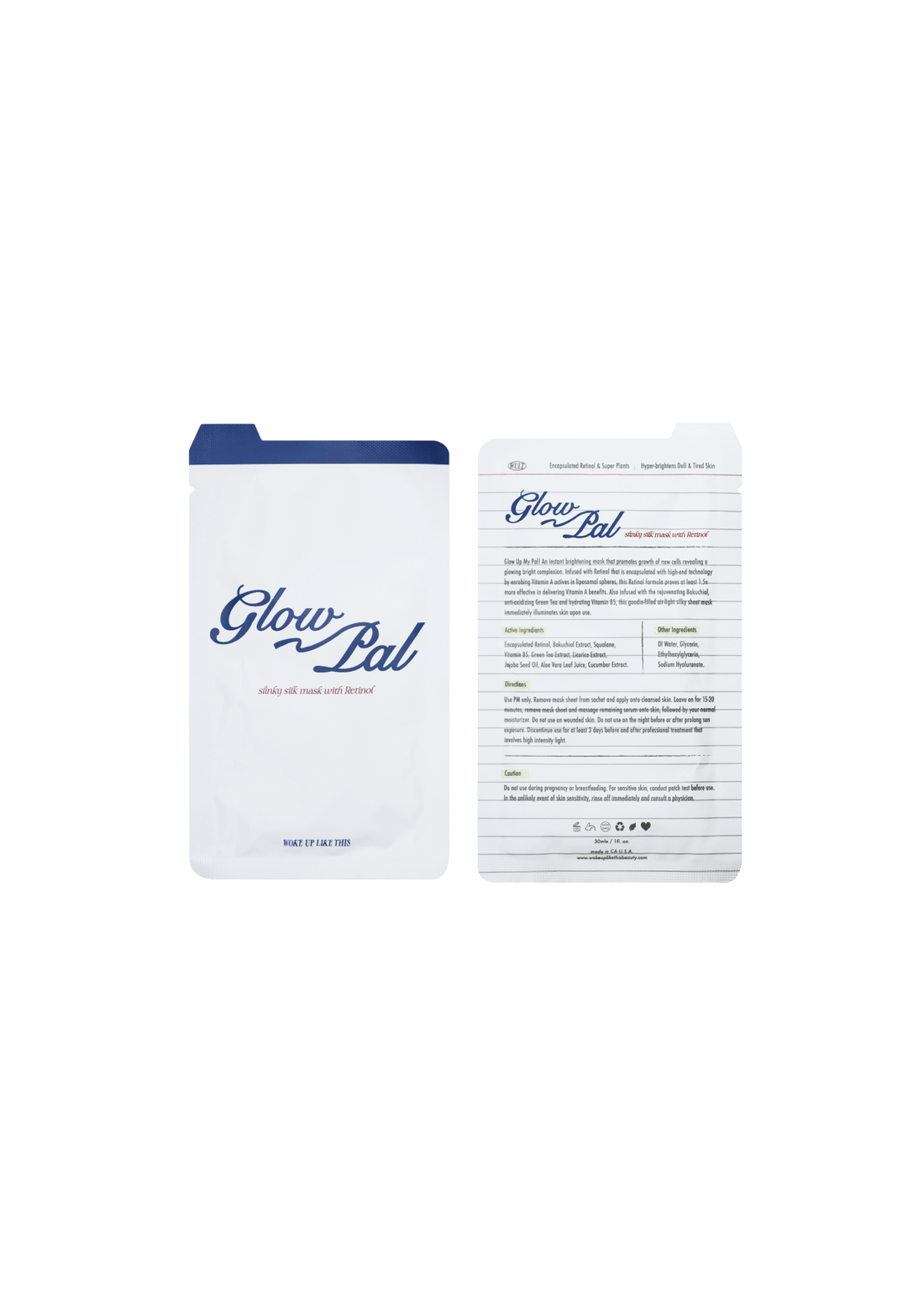 GLOW PAL slinky silk mask with Retinol
**所有訂單一經確認不設更改或退換

GLOW PAL slinky silk mask with Retinol
Encapsulated Retinol & Super Plants
Hyper-brightens Dull & Tired Skin
5pcs each box
Glow Up My Pal! An instant brightening mask that promotes growth of new cells revealing a glowing bright complexion. Infused with Retinol that is encapsulated with high-end technology by enrobing Vitamin A actives in liposomal spheres, this Retinol formula proves at least 1.5x more effective in delivering Vitamin A benefits. Also infused with the rejuvenating Bakuchiol, anti-oxidizing Green Tea and hydrating Vitamin B5, this goodie-filled air-light silky sheet mask immediately illuminates skin upon use.
Active Ingredients:
Encapsulated Retinol, Bakuchiol Extract, Squalane, Vitamin B5, Green Tea Extract, Licorice Extract, Jojoba Seed Oil, Aloe Vera Leaf Juice, Cucumber Extract.
Other Ingredients:
DI Water, Glycerin, Ethylhexylglycerin, Sodium Hyaluronate.
 
Technology Descriptions: 
What is Encapsulated Retinol - 
Retinol is a powerful ingredient known to instantaneously trigger skin renewing effects by directly acting on cellular receptors. However, due to its unstable nature, it is prone to degradation and quickly loses its reactivity, greatly diminishing all the skincare benefits that this potent ingredient harnesses. Through an encapsulation technology of the ingredient using a lipid capsule, our Retinol is enrobed into a nano-sized particle to preserve utmost stability, while ensuring delivery into skin for highest efficacy of renewing, brightening, and rejuvenation. The encapsulation of the ingredient also promotes progressive release of actives into our cellular system, thereby reducing the irritation brought about by conventional Retinol formulas to irritation-prone skin, and therefore this product can be used by sensitive-prone skin as long as adequate hydration is followed.


Directions:
Use PM only. Remove mask sheet from sachet and apply onto cleansed skin. Leave on for 15-20 minutes, remove mask sheet and massage remaining serum onto skin, followed by your normal moisturizer. Do not use on wounded skin. Do not use on the night before or after prolong sun exposure. Discontinue use for at least 3 days before and after professional treatment that involves high intensity light.
Caution:
Do not use during pregnancy or breastfeeding. For sensitive skin, conduct patch test before use. In the unlikely event of skin sensitivity, rinse off immediately and consult a physician. Store in a cool and dry place, away from direct heat and sunlight. For external use only. Keep out of reach of children. 
[ADD ICONS]
30mle / 1fl. oz.
Made in CA U.S.A.

GLOW PAL絲滑綢緞A醇面膜
纳米微脂球維生素A醇及超級植物
極緻亮白,喚醒疲倦暗沉肌膚\


一盒5片裝
Glow Up My Pal ! 即時賦予肌膚光澤!
瞬間提亮,有效促進肌膚細胞再生,展現明亮潤澤的膚色。透過高端技術,將纳米微脂球維生素A醇活性成分封裝於脂質體微囊中,比傳統方式發揮1.5倍的功效,同時含有再生功效的補骨脂酚、抗氧化功效的綠茶萃取物以及保濕的維生素B5,瞬間喚醒疲倦暗沉肌膚,即時亮白剔透。

活性成分:
纳米微脂球維生素A醇、補骨脂酚、角鯊烷、維生素B5、綠茶萃取物、甘草萃取物、荷荷巴籽油、蘆薈葉汁、青瓜萃取物。
成分:
去離子水、甘油、乙基己基甘油、透明質酸鈉

什麼是纳米微脂球維生素A醇?
維他命A醇是一種強效成分,通過作用於皮膚細胞內受體,啟動皮膚更新;然而,由於其不穩定性,容易分解並迅速失去反應性,大大減低了這種強效成分所具備護膚功效。
通過使用脂質膠囊對該成分進行封裝技術,此產品的維他命A醇被包覆成納米級顆粒,以保持最大的穩定性,同時確保在皮膚中有效傳遞,以呈現更新、亮白和恢復活力的最高功效。成分的封裝更能促進活性成分在人體的細胞系統中的漸進釋放,從而減低了一般維他命A醇配方對脆弱、易敏感的皮膚帶來刺激,因此只要有足夠的保濕修護,敏感性皮膚也可以用上這款產品。
 
補骨脂酚
從植物萃取的天然抗衰老成分,有效撫平細紋及皺紋,保護肌膚免受環境侵害造成的老化跡象,讓肌膚恢復年輕。
與維他命A醇搭在一起使用,效果更顯著。

角鯊烷
於肌膚表層形成保護屏障,鎖住水份,柔軟肌膚,還肌膚恢復理想的水油平衡狀態。

使用方法: 
於晚間使用。取出面膜,敷於已潔淨的面上,靜待15-20分鐘後將面膜移除,然後以按摩面龐讓剩餘精華滲透肌膚,隨後進行日常護膚步驟。

注意事項:
孕婦或哺乳期間請勿使用。
不適用於有傷口的皮膚上。
對於敏感肌膚,在使用前請進行皮膚測試。
如皮膚感到刺激,不適和敏感,請立即用清水沖洗,並諮詢醫生。
如第二天需要長時間暴露於陽光下,請避免使用。
在進行高強度光療等專業治療之前及之後,請停止使用至少3天